Rutgers iTV Goes Virtual for Commencement & Convocation
The Rutgers iTV team from the Division of Continuing Studies (DoCS) Media Services has been hard at work successfully carrying out ten completely virtual commencements this year. This is the second year the team had to shift their graduation protocol to go remote due to the COVID-19 pandemic.
"Everything happened so quickly, we had to move fast and keep up with demand," said Debra Andriano, Media Production Manager for iTV Studio.
Rutgers iTV worked on the first virtual event with the Office of Information and Technology (OIT) and later branched off on their own to create more custom-built events. They experimented with platforms such as Webex, livestream and more to see what might work best.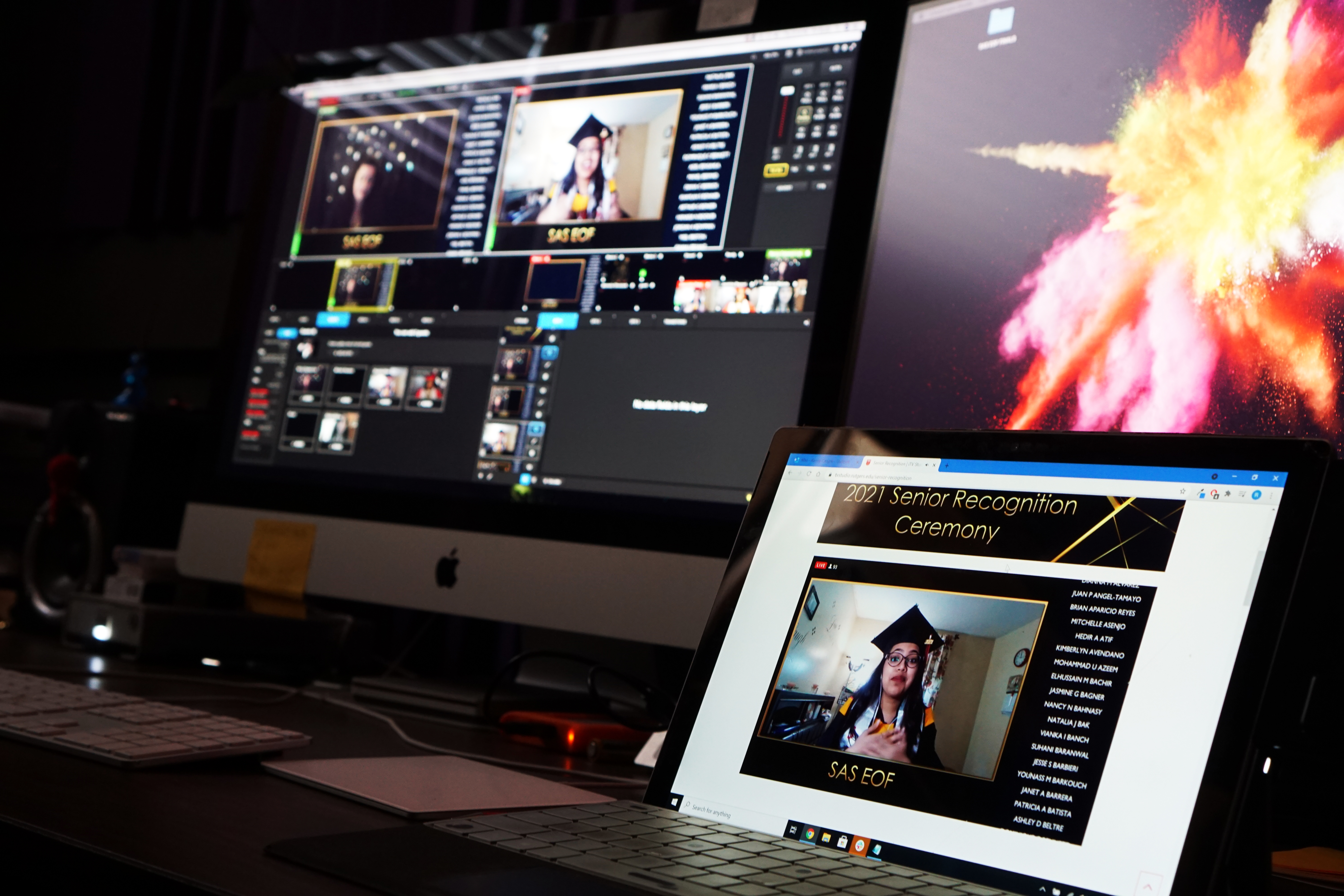 There were numerous obstacles that the team had to overcome. For instance, how do you get the best quality out of Zoom? How do you make the screen look the cleanest? How do you ensure a solid backup copy of the event?
"We don't use Zoom exactly how it's intended to be used. We kind of take it apart to bring it into our world and make it fit our vision," said Randy Cangre, Professional Productions Manager at iTV Studio. "This may involve using multiple computers to get multiple feeds of Zoom events to stream out, sometimes incorporating graphics, music, and other things like that."
Rutgers iTV approached these virtual events like a "show" or a multi-camera shoot. A majority of the commencements contained live and playback elements which required close attention to detail and lots of planning from the team. They relied on features such as spotlighting and pinning to do their camera switching and held regular rehearsals prior to the live events to ensure everything would run smoothly. 
"It has to be technical and scripted because everyone's watching. The audiences are huge for these events as well," said Cangre. "In three months, there's already been roughly 17,000 views from people watching something we produced, whether it's something we filmed and packaged, a live event that we did, or one of these graduations."
"Last year's New Jersey Medical School event that we did, which was a hybrid event, helped everyone realize that we can do more with technology than what it was initially intended for," said Andriano.
The Rutgers Robert Wood Johnson Medical School commencement required diverse elements. There was pre-recorded material as well as the challenge of live streaming 166 students as they individually got hooded as they graduated. This was a substantial increase compared to the eight students they filmed for the New Jersey Medical School commencement the year prior. It required a great deal of rehearsal as well as clear and consistent communication with the students. At Rutgers iTV, they recognized the significance of graduation and wanted to capture the remarkable occasion in an unforgettable way. 
"It's an experience to walk across that stage and be called 'doctor' for the first time, and they couldn't have that this year. The next best thing was to figure out how they can share that moment with their family members around to put that hood on them and say that they're a doctor and have it on camera. People loved it, they were crying on camera and they were able to share this with everyone at home as well."

Randy Cangre, Professional Productions Manager at iTV Studio
Another imperative component to make these events successful was ensuring the event was memorable and meaningful to the students, especially since these events could not be done in person.
"This is what the students wanted and the administration heard them and made it happen," Andriano said.
Rutgers iTV combines the latest digital technology with an award-winning team to provide a distinctive set of production services. See the list of convocations and commencements they have accomplished this year below.
Convocations filmed by DoCS Media Services:
May 16, 2021:  University Commencement
May 13, 2021:  GSAP Graduation:  Produced and Livestream
May 13, 2021:  EOF Sr. Recognition:  iTV hosted live event
May 14, 2021:  SEBS Graduation:  Produced graduation for third party vendor
May 15, 2021:  SMLR Graduation:  Produced graduation for third party vendor
May 19, 2021:  RWJ Medical School Convocation: Live Event              
May 23, 2021:  ODASIS Graduation:  Produced and Livestream
May 27, 2021:  EFM Virtual Graduation, CGS
June 11, 2021:  Department of Medicine Housestaff, Rutgers New Jersey Medical School Edit & Livestream
June 25, 2021:  School of Transportation/CGS: Edit & Livestream